…and things to do in Ireland in winter
Before 2022, I would not have wanted to visit Ireland in the winter. I always thought it was cold and gray over there, and who would want to go somewhere cold and gray in the middle of winter? But then a really good flight deal came up for the Republic of Ireland's off-season and my husband and I knew that we'd be crazy not to go. We quickly booked our flights for one week in December and planned a rough itinerary of all that we wanted to do. We had some ambitious plans but were able to pull most of them off, thanks to a little prioritizing and our campervan rental. We only had a week, but we were determined to make it count, and it was an unforgettable trip! We would visit the Emerald Isle in the winter again in a heartbeat.
Table of Contents
Here are 6 reasons why winter is the best time of year to take an Ireland trip.
1. Affordability
When the prices are this low, no excuse stands in the way between you and Ireland. Compared to peak season rates, the winter rates for flights and accommodations for an Ireland trip are much lower. So how much does it cost to travel to Ireland? At the time of writing this, roundtrip flights for two passengers traveling from Portland, Oregon to Dublin in February 2023 are $1,039.30. Total. Compare that to $1,866.50 to travel to Ireland for a week in July or August. That's quite the difference, and with a few extra hundred dollars, you can set yourself up in a traditional countryside bed and breakfast or modern downtown hotel in Dublin city centre.
2. Flexibility
Peak season traveling means competing with everyone else wanting to enjoy Ireland on holiday, which means reserving your flight, hotel, tours, and other experiences in advance with little to no flexibility if you have to cancel any of your plans.
While we planned a rough itinerary for our 7 days road trip in Ireland in December, we knew we had the luxury of flexibility if we wanted to stay an extra day somewhere. Thank goodness we had flexibility because due to flight cancellations, we lost a couple of days of our campervan rental.
We ended up changing our original route so that we could return our rental on time and still enjoy what time we had left in Ireland before flying home. We were able to book a city centre hotel in Dublin for the last two nights of our trip just three days in advance. There was no headache involved with trying to find a vacant room somewhere and we loved how our trip ended, even though it wasn't how we had originally planned it.  
We loved having flexibility with tours and restaurants, too. We were able to purchase tour tickets to the Book of Kells and Waterford Crystal Factory the day of, and every restaurant we walked into had a free table for us, no waiting. As someone who normally loves to plan ahead, I found the flexibility freeing! This worked out great considering our trip was delayed by two days.
3. Maneuverability
People aren't going to be crowding you out of stellar views or getting in the way of a photo opportunity when you explore Ireland in the winter. Again, the ease of maneuvering historic and scenic sites comes from way fewer people in Ireland, so if you want to be able to purvey the Gallarus Oratory without having to crane your neck to see it over someone else's shoulders, winter is the best time to visit Ireland.
4. Beauty
It sounds funny, but Ireland in the winter is also the best time for enjoying Ireland's coast and national parks. There may be a few more clouds and a bit more rain in winter than in summer, but the sun comes out to play, too. Even if it doesn't, the natural beauty of Ireland becomes dramatic under a cloud-veiled sky. The green is still there, keeping the island alive in every season. Some days you can even catch a glimpse of snow, which adds to the serene glory of the Emerald Isle's rolling hills.
5. Palatability
Just as the scenery is stunning in Ireland in the winter due to the clouds and precipitation, other things become enhanced in the winter. Find an Irish pub serving up Irish coffee or a hot toddy (we believe the best is at The Munster in Waterford), and let the warmth and aroma thaw you from the inside out. It will hit differently and give you a whole new appreciation for the season.
6. Festivity
The Irish love Christmas—and who blames them? While some scrooges are to be found in any country in the world, you'll find the towns and cities of Ireland in December abuzz with decorations, Christmas music, and festive events. Christmas in Ireland transforms the cold winter into a gay, celebratory delight. Visit Cork for its annual Glow light display in Bishop Lucey park or go to Waterford for Winterval, where local vendors, games, and food stalls fill the streets. Galway has excellent Christmas markets, too.
If you're able to, don't pass up a panto—short for "pantomime"—an uproarious comedy show alive with audience participation and over-the-top costumes and makeup. The wholesome fun is an excellent way for kids and adults to ring in the festive season.
This is only the beginning of a long list of reasons why you should visit Ireland in winter. The Emerald Isle is full of history, beauty, and good food and drink and it can be enjoyed year-round. Here's what we learned about traveling to Ireland in the winter and what you can expect, as well as a list of things to do in a week in all types of weather to maximize your visit. There are great indoor and outdoor things to do in the Irish winter to both endure and embrace this colder, but no less magical, season.
When is winter in Ireland?
Winter in Ireland starts in November and goes to February, much like U.S. winters in the Pacific Northwest, Midwest, and East Coast.
What is winter in Ireland like?
The weather in Ireland varies from inland to the coast, but temperatures range between the 30s-50s (Fahrenheit). It can also get quite windy on the island with frequent rain, but that's what keeps Ireland forever green. The weather in Ireland in the winter can be a soft mist or a heavy downpour, with the soft mist being barely noticeable. Sometimes you'll find yourself looking up and thinking, "Oh, I didn't even know the air was wet," and it will feel like a soft kiss from the skies. Other times, you'll be glad you made it to your campervan just in time for the rain to start pummeling the roof.
We found these jackets to be perfect for fending off the Ireland winter rain and wind:
Ireland Travel Tips for Winter: Things to Know Before You Go
Shorter Days
The days are much shorter in Ireland in the winter. The sun can rise as late as 8:30 a.m. and set as early as 4:30 p.m. Don't let that deter you from taking a driving tour or going on a hike, but be prepared to start a little earlier in the day, while it's still dark if you want to have ample daylight for exploring. It takes a little bit to get used to the shorter days, but the good news is that you don't have to get up super early to enjoy the sunrise. Take your time, drink your tea, and watch the sunrise with well-rested eyes.  
Off-season hours
Not everything is open this time of year. While we were in Dingle, there were a couple of restaurants we had been antsy to try, but alas! they were closed for the season. Some major restaurants and touring companies take the winter off, so be sure to check in advance that what you're wanting to do is available.
We were actually thrilled that some of the places we wanted to visit weren't open because it allowed us to check out some other places we wouldn't have tried otherwise. We ended up finding the best fish and chips we've ever had in Dingle because the original restaurant we had in mind wasn't open. 
Not sure if a certain business's or attraction's Google hours are accurate? Ask a local! They will know what's open and what isn't this time of year, and they'll probably have some good recommendations for you if your first pick isn't available.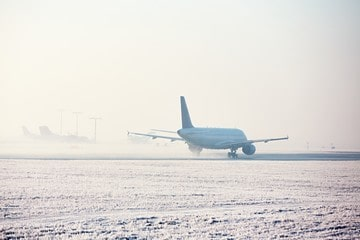 Weather-induced flight delays
Flight delays are possible when traveling in the winter depending on your departure airport, and we can personally attest to this. Keep this in mind when you go so that you can be prepared to be flexible. Around Christmas, things can get extra crazy and chaotic, so save yourself some stress and plan an extra day or two on either side of your schedule. It also doesn't hurt to ensure that your layovers are long enough to allow for last-minute changes or delays. Trust me, you won't regret it. We spent 2 1/2 hours out of of our 3-hour layover in Charles de Gaulle waiting in a security line, and we were relieved we had the time. 
Answering the question, "Where are you from?"
Be prepared to answer the question, "Where are you from?" and don't feel like you're being passive aggressively pointed out as an unwelcome visitor. On the contrary, the Irish love knowing who has chosen their beautiful island as their vacation destination, and they just might know someone who lives in your city or they themselves may have lived there at some point. One of our servers had lived in our home state of Oregon, and it was fun to chat with him about it!
The Irish winter climate
Bring layers of clothing. From our experience, Ireland's weather stays in a certain range, but the island experiences its own random cold snaps, too. For example, we were walking in a windy 20-degrees Fahrenheit at night in Waterford at the beginning of our trip. The frigid air made our lips pucker every time we walked back outside from stepping into a store, but at the end of our trip, in Dublin, we were almost too toasty in 55 degrees Fahrenheit and a soft mist.
A good down vest, waterproof shell, warm hat that covers the ears, scarf, gloves, and insulating socks will keep you warm while giving you the freedom to remove layers if the cold temps ease up.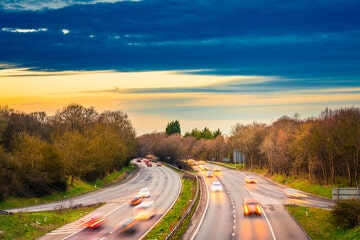 Driving in Ireland: Things to know for your road trip itinerary
Though you need not be concerned about driving in Ireland in the winter as ice and snow are rare, it's still good to be prepared for it. Just drive a little slower if the signs warn of ice. In fact, it's good to read up on Ireland's road signs and pavement markings prior to driving in Ireland so that you're not caught off-guard by bus-only sections or dual-carriageway signs.
If you're unfamiliar with driving in a roundabout, you'll want to look that up, too, because they have a lot of those over there! We found that we liked them a lot because they move traffic along, but they can be intimidating if you're not used to them.
And while we have white center lines in the U.S. that tell drivers that they're proceeding onto a one-way street, they don't have that in Ireland. We found out in advance what to look for and it made driving in Ireland easy like Sunday morning. 
Just in case you don't have a signal, have a paper Ireland road map on hand. We used this one.
Because we were prepared for the best and worst that Ireland had to offer and knew what to expect, we enjoyed a variety of sites on our trip. The weather couldn't keep us from seeing all that we wanted to in a week, and though we ended up wanting five extra weeks to explore Ireland, we uncovered a lot in a short amount of time. Here are what we found to be Ireland's highlights for a week of adventuring.
What to Do in Ireland for a Week in the Winter
Explore the Cities in Ireland
As we were exploring Ireland, each city revealed a different energy. Whether you're in Ireland in winter, spring, summer, or fall, the cities are a must for sightseeing. Especially in Ireland when the weather can be colder in the off-season, cities have a bunch of cafes, pubs, and shops for you to duck into when it becomes too unpleasant for strolling.
Dublin
Dublin is a university city and the location of two iconic cathedrals—St. Patrick's and Christ Church—as well as the center for great shopping and statues of legends who have frequented the city or called it home.
Stroll around Dublin and you won't be disappointed. It's fun to make a scavenger hunt out of locating all the statues in Dublin. On O'Connell Street Lower, admire the Jim Larkin statue, then find his monument on O'Connell Street Upper. The Famine Memorial is on Customs House Quay, Oscar Wilde is lounging in Merrion Square, James Joyce surveys Earl Street, and Molly Malone is on Suffolk Street.
These are only a few of the immortalized souls displayed in a sculpted form in Dublin, and no matter where you go, you're likely to find one or two along your path. 
Tours
Is the weather unkind to walking outside? Take in the city from an indoor vantage point. In Dublin, get tickets for the world-famous Guinness Storehouse tour, where you can find out just what makes this Irish beer so special—from the selection of fine quality barley to Guinness' signature strain of yeast that's been around for a couple hundred years. With your tour admission, you'll get a voucher for a pint anywhere in the Storehouse's tasting rooms and cafes.
Take in Dublin city views within the comfort of the Gravity Bar—the topmost bar in the Guinness Storehouse. If it's cloudy or socked in with fog, wait a few minutes while you imbibe, and the city might just come out of the mist. Weather in Ireland can change, so don't let temporary fog discourage you.  
Another tour in Dublin that showcases the best of Ireland's good drinking tradition is the Jameson Bow St. Distillery, founded in 1780. Can you go to Ireland without tasting some Irish whiskey? Perish the thought. Find out what it's all about on the tour and partake in the Jameson signature flavor afterward. 
Museums
Dublin has a wealth of museums, including Kilmainham Gaol, the National Museum of Ireland, the Irish Museum of Modern Art, and the Hugh Lane Gallery. While many museums ask that you book your admission in advance, in the winter you can book the day of. We learned that some experiences are doing away with traditional ticket kiosks, so it's wise to check with the museum website in advance to see if you book your tickets online or can purchase them at a counter.
Kilmainham Gaol
This former prison offers tours and gives you a glimpse of Ireland's turbulent past. Kilmainham Gaol was a prison for everyday criminals but was also where leaders of the 1916 Easter Rising were kept, some of them being executed there in the Stonebreaker's yard. It's been a national monument since the 1960s and hasn't been used as a jail since the 1920s, so don't worry about getting too creeped out.  
The National Museum of Ireland
The National Museum of Ireland has locations throughout Dublin and one in Castlebar and admission is free. The branches take you on a journey through decorative arts and history, country life (Castlebar), natural history, and archaeology.  
Irish Museum of Modern Art (IMMA)
The IMMA displays work from contemporary Irish and international artists and is another great one to wander. It has free admission as well, with some individual exhibits charging their own admission fees.  
The Hugh Lane Gallery
This gallery, started by Hugh Lane in 1904 when he held the first exhibition of Irish art in London, is free of admission and wows visitors with a wealth of art, cultural, and historical artifacts. In fact, you can now find Sir Francis Bacon's studio and archives at the Hugh Lane Gallery.  
Trinity College–The Book of Kells
This illuminated manuscript from the 9th century has survived multiple Viking raids. The book's original gold leaf has long since been scraped off by marauders, but the intricate and colorful lines of the four gospels in the Book of Kells are stunning to behold in person.
Located within the campus of Trinity College, this work of art is on display to the public. The exhibit tells of the book's long history, how it was made, and how it's preserved. An optional audio tour is provided free of charge on the Trinity College app. Then, you'll get a chance to gaze at the book itself, which is kept in a glass box that is meticulously monitored and controlled for light and temperature to preserve the vellum pages.
Don't neglect to walk through the Long Room, Trinity College's famous library, located just upstairs from the Book of Kells. This library contains around 200,000 books collected over the college's long history and is home to the Brian Boru harp, the official emblem of the Republic of Ireland and inspiration for the Guinness Beer logo. 
Cathedrals
Christ Church Cathedral
Built in the 12th century, Christ Church has had some updates since then, in the more recent 1800s, but one of the original walls from the 1100's continues to prop up the building. Stained glass windows, floor tiles with intricate designs (the foxy friars are unique to Christ Church), and a behemoth organ left my husband and I speechless. Then, we wandered down to the crypt to see the church's special artifacts that have been kept safe all these years. One of these "treasures" is the mummified forms of a cat and rat that were found in one of the organ's pipes. See these and stocks in Christ Church Cathedral's crypt.
St. Patrick's Cathedral
Ireland's largest cathedral is St. Patrick's and sits near a site where it's believed St. Patrick baptized new believers. Lead yourself through St. Patrick's vast halls under its quadripartite vaulting and let the 800-year-old building speak to you.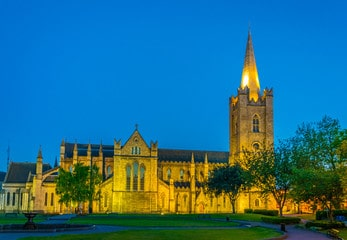 Shopping in Dublin Ireland
Grafton street
The shopping center of Dublin, Grafton Street is a great place to wander and perhaps even pick up a few items off your Christmas list. You can easily spend a whole day here with how many shops call Grafton Street home, and of course, you can find places for good food and drink. Musicians along this famous shopping strip enliven the atmosphere with their melodies, though in the winter you'll find fewer of them braving the cold. As you're shopping, warm up with a Butler's Chocolate Café signature hot chocolate—they'll even give you a complimentary chocolate with it!
Powerscourt Townhouse Centre in Dublin
It's here in an old Georgian house built in 1774, located just off Grafton Street, that you can find all manner of fine things in the Powerscourt boutiques. The attached car park (they say "car park" instead of "parking lot/garage" in Ireland) makes your life easy so that you can drop your bags in the car after a full day of shopping. Then, stop in at one of its restaurants or cafes for a refresher before heading back to the hotel.
Dunnes Stores
This chain of department stores is totally Irish—you won't find them anywhere else—and Dunnes Stores offer shoppers a variety of clothing, home, and food goods to delight and distract. This is true especially at Christmas, when the stores go all out with decorations.
Waterford
From Dublin, head south to Waterford, the ancient Viking port and home of Waterford Crystal. This city is a treat to wander! It's an old city—settled as early as the 10th century—with loads of Irish history. While a cold snap in the Irish winter left us feeling like walking icicles, we still enjoyed the Christmas lights and located Reginald's Tower, the remnants of a Viking's stronghold. It stands as the foremost section of the former Viking fortress, which was shaped like a triangle, giving the area its name, "the Viking Triangle."
Lismore Castle Gardens
A Waterford icon, Lismore Castle has been standing since the 12th century (with some renovations) and continues to enchant visitors with its gardens that have been cultivated since the 17th and 19th centuries. The gardens are open to the public and there is ample parking for the duration of your visit. The castle itself is not open to the public as it's a private residence, but don't let that stop you from gawking at the romantic Gothic-style walls that were added to the structure in the 1800s.  
Waterford Crystal Factory Tour
My favorite tour so far is the Waterford Crystal Factory tour. While the company itself has changed hands a couple of times, the tradition of crystal crafting hasn't changed. At the House of Waterford, you can watch master craftsmen at their trade, creating works of art that will be treasured for lifetimes. 
If you arrive a little early for the tour, have a seat in the Waterford Crystal Café and try to decide between a tartlet or cake and sip on a hot coffee or tea while you wait. After the tour, shop around in the store where Waterford offers shipping services with complete insurance to give you peace of mind. We ended up dropping some euros on a stunning whiskey decanter, and when we get it in the mail, we'll be christening it with Irish whiskey.  
The Medieval Museum, Waterford
The Medieval Museum sits across the street from the House of Waterford Crystal Factory, and there you can see the curated collection of medieval cloth-of-gold vestments that have survived since the 15th century. The buildings that house the museum—the 13th-century Choristers Hall and the 15th-century wine vault—are medieval treasures in and of themselves. 
Cork
Ireland's capital city, according to the Irish, is a bustling city that celebrates its ancient past while springing forward into modernity. Cork has been around a long, long time, and its narrow streets and architecture testify to this. However, Cork refuses to be left behind. It's a university city and home to pharmaceutical, technological, and cybersecurity companies, to name a few of the main industries. As you walk the streets, you'll find families enjoying a day together alongside those who are hurrying to work.
Blackrock Castle Observatory
Cork has lots of history to explore right alongside its present-day distractions, and we had wanted to visit the Blackrock Castle Observatory. Our travel delays, unfortunately, made it so that we had to forego this site for this trip, but we wanted to see it because the observatory was obviously once a castle, built in the 1600s for defense along the coast.
Blackrock has it all for every visitor–a star show, castle tour, and festive decorations at Christmas make this a fun place to see, whether you're a grown-up history nerd or a small child looking at the world with childlike wonder. Blackrock Castle also has a cafe with fine dining options that we were anxious to try–more for next time!
The English Market
In Cork, you'll find the English Market, a covered market established in 1788 where vendors sell delicious eatables and gifts. The market is open Monday to Friday, 8:00 a.m. to 6:00 p.m., even in the winter. Be prepared for it to be a little chilly, though, as the market is covered but not heated.
We thoroughly enjoyed our time in the market and could have spent all day gawking at all the items. We were enticed by the cheese stalls and took with us some local cheeses from the market to have for a picnic lunch later that day.
To get a snack or lunch that boasts all the Irish flavors, we suggest asking the vendors for their recommendations for locally produced items, like meat, cheese, and bread. Ireland is known for its cheese, and there are several local dairy farms that produce unctuous smoked cheeses or salty, savory goat cheeses.
After perusing the stalls inside the English Market, we grabbed a baguette, two Irish cheeses, and oranges and went on a little road trip to Killarney National Park, where we looked out over Muckross Lake from the comfort of our campervan.
The Farmgate Café upstairs in the English Market gives shoppers another taste of Ireland with its breakfast and lunch offerings. We highly recommend getting a pot of tea to share and an Irish breakfast or a plate of French toast with berry compote.  
Blarney Castle
This was another site we had to forego, but this medieval castle is impressive with its towers and enduring stone. The thing to do at the Blarney Castle is to kiss the Blarney stone and it will give you the gift of gab–as legend has it. Don't worry, you don't have to kiss a stone that's been touched by thousands of other mouths to fully appreciate this historic site. Tour the castle's rooms for yourself and imagine a glow coming from the big fireplace in the Great Hall, or Mass being conducted in the Chapel.
Unfortunately, we didn't make it to Galway, but it's at the top of our list for our next trip. We can't wait to see the Spanish Arch, experience the great Galway pub scene, and take in the views at Connemara National Park in County Galway.
Pubs
It won't take you long to find your favourite pubs in just seven days, as there are many from which to choose. I'm not sure if any pub in Ireland could be disappointing, as we thoroughly enjoyed each and every pub we visited. A pub is a perfect spot to weather out the Ireland weather with a local draft beer.
Shortly after flying into Dublin airport and picking up our campervan rental, we chose to head north to Malahide for the evening and find a pub for our dinner. It was there at Duffy's that we watched the 2022 World Cup match between France and Morocco (which later became the ignition behind some riots in Paris) and had our first Irish fish and chips and Irish beer. The beer was Bemish, and it was delicious.
For the best hot toddy you've ever had in a cozy setting, go to the Munster in Waterford. It's open year-round. While the kitchen isn't always open in the winter, fortunately, they're still pouring Guinness and making hot toddies and Irish coffees to warm you up on a cold winter's evening.
With that said, most Irish pubs offer some sort of food, but it doesn't hurt to check with the bartender before laying claim to a barstool for an evening if you're going to get a hankering for nosh. Google can sometimes give you accurate results for what's open in the off-season, but it never hurts to check with a local on what's actually available in the wintertime as some businesses don't always update their sites or hours to reflect current offerings.
Traditional Music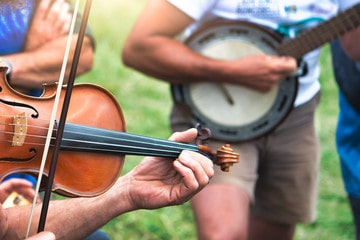 Looking to hear some traditional music while in Ireland? We were, too, but in the big cities, we were hard-pressed to find any trad players in the pubs. Limerick, however, is home to Dolan's pub, the music center in Limerick, and a nationally awarded music venue.
Dolan's website boasts that trad sessions kick off in their pub Friday and Saturday evenings at 9 p.m. all year round. We stopped in at this famous watering hole in Limerick on our way back to Dublin. I get worried when one business tries to do too much. You know what I'm talking about–the Mexican/American/Chinese restaurants, etc. When I looked up Dolan's and saw that they offered food, beer, and various musical acts seven days a week, I was skeptical. How could one place do so much and deliver quality on everything?
Upon walking into Dolan's, we saw that every table was reserved for dinner. We sat at the bar where they graciously allowed us to order dinner and we quickly discovered why all their tables were booked. It wasn't just because it was Friday night. The bartender recommended the special that evening, feather blade (a beef roast) with gravy, roasted vegetables, and mashed potatoes. When our meal came, it looked unassuming, but once we took a bite, we were sold. The meat was so tender and flavorful and paired perfectly with our Guinness beer.
As we sat there inhaling our food, we were curious to see so many Coors Lights being poured in an Irish pub. After commenting on the sales of Coors Light to the bartender, he replied, "There's a lot of people with a bad taste in Ireland."
Who knew?
See the Irish Countryside with a Driving Tour
While driving on the Emerald Isle can be intimidating with its narrow lanes and driving on the left side of the road (the "wrong" side to us Americans), it is the best way to see Ireland! Taking a bus tour can take the pressure off, but there's no freedom like having your own vehicle and letting the countryside guide you through its many magical realms.
Take this affordable and easy-to-use car phone mount for using GPS or navigation in case your rental doesn't come with one. Mine is three years old and I'm still using it!
We loved going on a road trip through the Irish countryside in our campervan and regret not having five or six weeks to tour the land properly. If you're also looking to tour the country in a rental car, here is what we think you should include in your Ireland road trip itinerary.
The Wild Atlantic Way
This is a 2,600-kilometer stretch of road that leads you along Ireland's west coast and through more than one national park. It runs from County Derry in Northern Ireland to County Cork in the south. You won't want to miss the views along this stretch of highway, and though it would be extreme to try to drive the whole stretch of the Wild Atlantic Way within a one-week Ireland itinerary, you can connect to any part of it and make a great one- or two-day road trip.
The Dingle Peninsula
Since we only had a week in Ireland, we opted for a one-day road trip on the Dingle Peninsula. This portion of the Wild Atlantic Way that meanders along the Dingle Peninsula is dotted with early Christian stone churches, beehive settlements, and ring forts, so we knew we were going to see a lot on our short excursion. Driving through Ireland allows you to get a good taste of Irish history outside the museum.
We had to be careful not to get too caught up in the views—the road is narrow and at some parts, the edge drops off down to the sea. Don't worry, there are lots of places to pull over to take in the view so that you don't get too distracted while driving. We were thankful for all the opportunities to pull off the road and take some photos without fear of being involved in a collision.
We found that despite the clouds, it could be quite sunny in Ireland and we encountered glare from wet roads. These blue light-blocking sunglasses were just what we needed to enjoy the sites on our road trip around Ireland without darkening our view too much.
Along the Wild Atlantic Way, you'll get to stop and see the Gallarus Oratory, built in either the 7th or 8th century, some more ancient beehive settlements, and a view of the Three Sisters—three cliffs lifting up their heads out into the Atlantic Ocean.
Star Wars Filming Locations on the Wild Atlantic Way
Unbeknownst to us prior to our trip, there are a few locations in Ireland where they filmed scenes for the Star Wars films The Last Jedi and the Rise of Skywalker. Sybil Head, right by the Three Sisters, was where the Star Wars crew built the same style of beehive huts seen throughout the Irish countryside for The Last Jedi. Other filming locations along the Dingle Peninsula and Wild Atlantic Way include Malin Head, Loop Head, Brow Head, and Dunmore Head.
The Town of Dingle
We drove into the town of Dingle after our day of exploring Ireland's west coast right as darkness was beginning to fall (around 4:20 p.m.) and quickly set up camp in the public car park on the water. It was dinner time, but where to go for food? The restaurants I had bookmarked were all closed for the season. In fact, the whole street facing the water that would normally be abuzz with people and glowing with lights on a summer evening was dark and deserted. Still, we were determined to find a place that was willing to fill our empty bellies with delicious seafood.
We walked up the cozy streets of Dingle and encountered a few locals here and there that were out for an evening or picking up some takeout (or as they say, "takeaway"). This told us that there was grub somewhere in the town, and sure enough, we came across the Fish Box, a seafood market and restaurant serving up the crispiest, flakiest fish and chips that we had ever experienced.
Though the restaurant has an unassuming facade, inside is where some real magic happens. My husband got the fish and chips with the fresh catch–Haddock–and I got the prawn scampi, which was fried to absolute golden perfection. Their chips didn't leave us disappointed, either, as they were thick-cut and crispy on the outside and soft on the inside.
Go to Bean in Dingle for a pick-me-up on your way out or while strolling the local shops.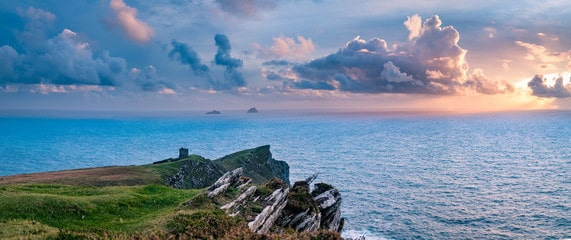 The Ring of Kerry
We wished we had time to do more of the Wild Atlantic Way, but we didn't, and the Ring of Kerry deserves proper attention. This well-known stretch of scenic highway accessed by N70 and R565 is dotted with sandy beaches, views of the Skellig Islands where puffins and other birds migrate (take these binoculars with you), and other fascinating historical sites.
The Ring of Kerry is the perfect road trip for your Ireland itinerary with the Cliffs of Moher and the two ancient ring forts, Cahergal and Leacanabuaile. If you can, you'll want to hit up this section of the WAW in your rental car for a day or two.
Killarney National Park
Part of the Ring of Kerry, Killarney National Park was near the top of our list of favorite sights in Ireland. You don't have to get out and hike to enjoy Killarney National Park, though it doesn't hurt. The road through Killarney allows drivers to pull off at many points so that they can take in views of Muckross Lake and Purple Mountain in the distance.
Some of the views are only accessible by foot or jaunting car, but they're unforgettable, so if you're brave to walk in a little chill or mist, you won't regret it. The Reenadinna Yew Woods, Mossy Woods, Muckross Abbey, and Torc Falls are all worth the short hike or trip in a jaunting car (horse-drawn wagon). If it happens to be raining or misting, the moisture makes the Mossy Woods come alive and harken you back to medieval times when there were no paved roads and monks were the main inhabitants of this parcel of land. All you need to embrace the natural beauty of the Emerald isle in winter is the right clothing.
Jaunting cars are a fun way to explore Ireland and many are available for hire in the cities and national parks. Expect to pay about 50 euros for two people. It's not just a ride in a wagon–the driver will educate you on particularly interesting points of history and the significance of the sites as you go along. You can even get a picture of the horse!
Speaking of photos, this phone tripod is invaluable for getting group shots. It's also a selfie stick!
Hikes and Walking Tours
As you tour Ireland in your rental car, you will inevitably be forced to get out of the car to take in the sights properly, such as walking to the Gallarus Oratory, up to the ring forts, and anywhere you want to get a decent picture. This is why doing an Ireland road trip is great–you can stop practically any time you want while knowing that you're still going to have amazing views in the car.
The viewpoints along your road trip will only make you hungry for more–trust us. While a road trip allowed us to see a good amount of countryside in a short period of time, it's necessary sometimes to get out and use your legs to appreciate certain sites. You'll want to get out and do a walking tour of a medieval castle or two–Ireland boasts quite a few! We got to see Ross Castle, Nenagh Castle, and Leap Castle, (incidentally, the most haunted castle in Ireland) and we had to get out of the vehicle to see them properly.
In addition to castles, the scenery of Killarney National Park is not to be beaten, and as I mentioned earlier, there are several low-effort hikes with maximum scenic payout. In the city? Stroll along the River Suir in Waterford city or book a walking tour that explores sections of the Waterford Greenway, a trail that runs 46 kilometers along an old railway line from Waterford all the way to Dungarvan. In Dublin, do the statue scavenger hunt or simply get lost in its streets. We were so glad to know that going to Ireland in winter did not deprive us of strolls and sights.
Final Thoughts
It was just seven days and it was winter, but we were glad to go for any amount of time to see Ireland than not go at all. So, what are you waiting for? If you've got the itch to see the Emerald Isle, just go for it. Chances are, you're not going to regret whatever it is you find once you get there. Live your life now and don't let the winter in Ireland keep you from visiting this amazing country. In fact, we think it's the best time of year to visit Ireland! For Christmas, its natural beauty, space to roam, and flexibility, Ireland in winter can't be beaten. In summer or winter, you'll instantly fall in love with Ireland and the Irish people.
For more travel inspiration, check out the Summer's Backpacking Guide for New Zealand.